DIY Lice Treatment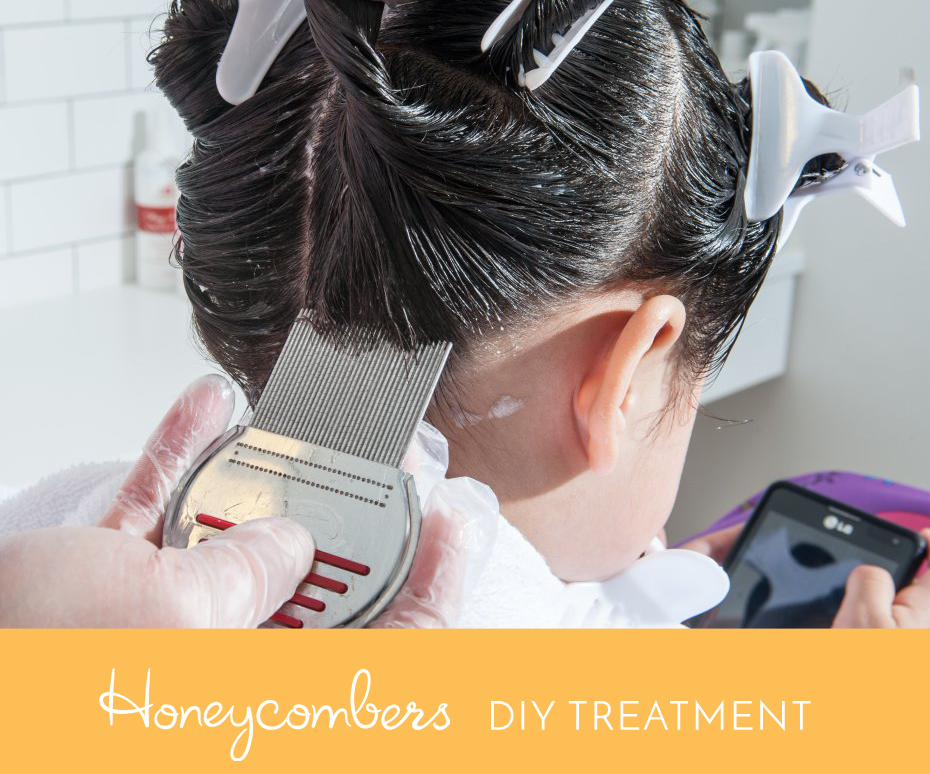 TREATMENT SETUP
You will need:
Tall stool in a location with good light
Brush and rat-tail combs
Honeycombers Nit-Free Comb
Clips for medium to long hair
Paper towels or wash cloths
Plastic zipper storage bag for contaminated waste
Towel for placing over shoulders
Honeycombers Daily Conditioner*
Honeycombers Treatment Mousse*
Honeycombers Restoration Oil*
Entertainment of choice for child
TREATMENT PREPARATION
Dampen hair completely.

Add a generous amount of

Honeycombers

Treatment Mousse

, especially around the ears, nape and crown areas. Make sure the mousse gets all the way to the scalp over the entire head. Let sit for 15 minutes and then rinse.

Add a small amount of Honeycombers Daily Conditioner from the scalp to the ends of hair.
Detangle hair using Honeycombers Detangling Spray and the rat-tail comb. With longer and thicker hair, start with the brush.

Once hair is detangled, thoroughly re-comb hair with the rat-tail comb.
TREATMENT PROCESS
Begin by parting hair down the middle. Divide and clip each side up into 3 or 4 sections, making sure parts are straight.
Begin combing one section with the

Honeycombers Nit-Free C

omb. Comb from the scalp through to the ends of the hair. Wipe comb after each swipe onto a paper towel or washcloth Comb in all directions until clean (meaning no nits or lice). Pin up section of hair with a clean clip when done and move to next section. Once all sections have been combed through thoroughly, remove clips and comb through the entire head from front to back until clean.
Comb all of the hair to one side of the head until clean. Then comb to the other side of the head until clean. Repeat the combout process if you still find any evidence of lice. Once treatment is over, product may be left in hair or washed out.* Girls should put hair up in a braid or bun. Add Honeycombers Restoration Oil to ends of hair and massage through for additional conditioning. Leave in overnight to deeply restore long, coarse or damaged hair.
* Honeycombers products are all safe, gentle and nontoxic.